5 Easy Ways To Organize Your RV
Space is a precious commodity in an RV. And while your RV may never look as perfect as the ones on Pinterest (seriously, it's impossible and I challenge any real-life RVer to prove me wrong!), that doesn't mean you should give up on a cleverly organized rig! Here are some simple tricks to help you get organized:
1.Think Like A Square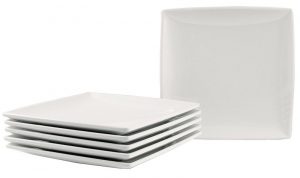 Consider swapping out the plates and bowls in your RV for square ones like these
RVs are full of 90-degree angles. The cupboards, the refrigerator, the slides — everything is very square! Don't fight it. Use square storage containers to maximize space in your RV. You can even go a step further and avoid round shapes in your rig altogether: Ditch canned goods and switch to boxed soups, beans, etc.; buy square pans (they exist!); and swap out your dishes for square plates, bowls and so on. It may seem extreme, but you'll be amazed at how much more efficiently things fit in the cupboards.
2. Look Up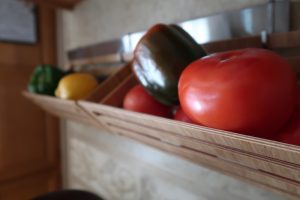 Use the wall space in your RV. We hung these shelves for storing fruit and vegetables in our kitchen, which saves valuable counter space.
Again, space is precious in a rig. That means you need to get creative about how and where you organize your things. A lot of RVs have dead space near the slide-outs and above cabinets and doors. If you're looking for a place to store kitchen utensils, cutting boards and other lightweight stuff, consider putting them up high in these areas. Use command hooks to store drying racks, white boards and even your broom up high and out of the way.
3. Nest And Stack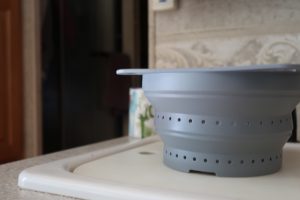 A collapsable colander is a game changer in a small space like an RV.
I'm a natural-born minimalist and will always use what I have instead of buying new. I make an exception in my RV. It's really important to carry things that nest, stack or collapse to keep your RV organized — so important, in fact, that you should replace anything that doesn't fit well with your other supplies. We've replaced mismatched bowls, storage containers, and even pans with nesting ware. It has saved me so much sanity in organizing my RV kitchen!
I use crates like these to store my daughter's clothes.
For the bedroom, we bought lightweight, stackable crates to store my daughter's clothing in the cupboard. This has been amazing since we own a Class C motorhome with no extra closet for her. Being able to stack her clothes in a more organized way makes laundry day so much easier. It also helps keep things perfectly organized while traveling. When using bins, stack them based on usage. The most frequently accessed items should go in the top bin. If you really need to save space or just like the idea of having as much room as possible, check out collapsible products. They make bowls, pots, pans and even tea kettles that collapse within themselves to give you more space!