Choosing The Right RV: 7 Things You Need To Know Before Driving Off The Lot
Choosing The Right RV: What You Need To Know Before You Buy (Or Rent)
Choosing the right RV is important. Trust me, I know: I bought two RVs within 13 months due to complications with the first. To help you make a confident and informed purchase — and get it right the first time! — I put together a list of important things to consider when buying an RV.
Note: This article isn't just for prospective RV owners. Some things — like safety, comfort and drivability — are equally important for anyone looking to rent an RV.
1. Safety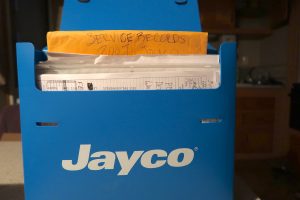 You may assume that every RV on the dealership floor is roadworthy. But with a purchase this big, you deserve proof.
If you're buying a used rig, make sure it comes with maintenance records. It's important to know that the RV had proper care over its lifetime.
When my husband and I bought our first RV (a fifth-wheel) we knew nothing about its past. We soon found out that it had not been stored properly and that the seals were not maintained. We had to spend our Thanksgiving and Christmas completely replacing walls due to water damage (you can read that fun story on my blog). In total, we spent about nine months renovating the rig to bring it up to code.
But all that time was not in vain! When we purchased our second RV, we knew exactly what to do: We asked for maintenance records, we checked seals and we inspected the roof for any signs of water damage. When the rig was confirmed roadworthy, we knew it was the right RV for us.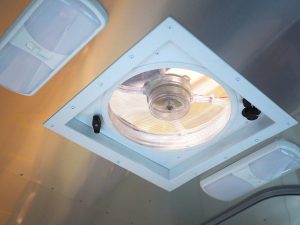 These checks are just as important when you buy a brand new vehicle. Make the dealer go through all the systems to ensure they are working. This includes propane, air conditioner, slide mechanisms, engine (if applicable) and any other amenities that come standard with your prospective rig.
If these systems aren't working, do not hesitate to stop the process. Do not buy if you have even the smallest suspicion that the RV is not ready to hit the road!
2. Comfort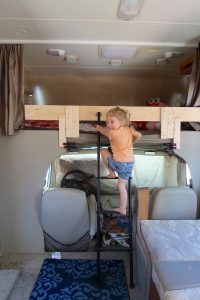 If we're being honest with ourselves, full-time RVers like myself will be the first to admit that most RVs aren't as cushy or comfortable as the houses we left behind. For full-timers, that's a fair trade-off for the freedom and adventure that life in an RV offers. But that doesn't mean you should settle for an uncomfortable RV!
Find a rig that feels good to you. You don't want to feel claustrophobic or cramped on long trips. Do you cook a lot? Make sure you like the layout of the kitchen. Do you need your privacy? Look for an RV that has doors and dividers.
Some people love the Class As because of the large windshield. They say it provides a more open feel with stellar views while driving. Others love fifth-wheels or travel trailers because they feel the most like "a regular house."
Personally, I love our Class C because the seats in the driver's cab are so comfortable for traveling and the overhead bunk gives my daughter a place of her own without sacrificing any space.
Go to a dealership to get a feel for the different RV classes. (Campanda's comprehensive guide to the different RV classes is another great place to start your research.)
3. Storage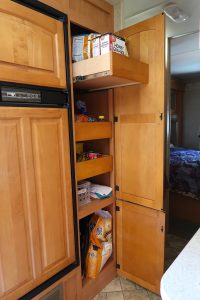 When we made the move from our apartment to our first RV, I thought we would have to downsize a lot. With the storage our fifth-wheel provided, that wasn't the case. In fact, we ended up tearing out some inside storage for a cleaner look.
But when we made the switch to our Class C motorhome, there was almost no outside storage. My husband had to build a chest inside.
Always consider storage capacity when buying an RV! Think about who is going camping with you and how much stuff they need to bring.
Is there enough room for your clothes, shoes and other important belongings? Where will you store your camping gear and RV accessories? What does the kitchen offer in terms of food storage?
4. Floor Plan
Choosing the perfect RV floor plan can be very time consuming. After all, there are literally thousands of them!
Pick a floor plan where every camper has their own place to sleep (unless you plan to regularly travel with eight people — good luck finding a vehicle large enough for eight separate beds!).
Whether you use your RV for weekend trips or want to become a full-timer, this decision is going end up affecting the quality of your experience for better or worse. You should also consider your pets and if you will bring them — they also need a place to rest.
Make a list of "must-haves" and stick to it. Different floor plans offer different amenities.
Do you need a washer and dryer? How many TVs would you like? Are bunk beds essential or can you make do with fold-out couches? How many bathrooms do you need? Would you like a door that closes to your bedroom?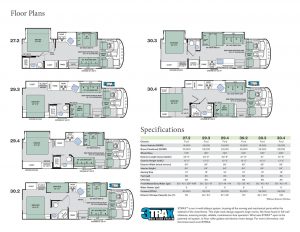 When we first started RV shopping, I thought I wanted a travel trailer with a separate bunkhouse. On paper, this layout looked perfect! After walking through a few of those floorplans, I realized they were way too big for our family and we could choose an RV without a bunkhouse.
The best way to get a feel for different floor plans is to visit a dealership and walk through them all. If you're torn, you can rent an RV on Campanda to get a feel for what the space is like when you're actually living in it.
Other Things To Consider:
5. Camping Style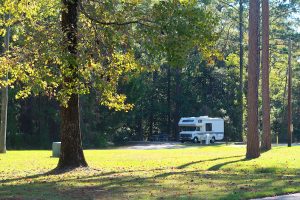 Think about what kind of camping you'd like to do. If you want to camp in state and national parks, you may need a smaller rig.
Our rig is 32 feet long. I would suggest this as the maximum length for the public park system. If you prefer a full hookup site, most dedicated RV parks will accommodate a larger RV without any issue.
6. Budget
Be honest about your budget. You may love the feel of a fifth -wheel, but you must consider if you can afford the truck to pull it.
My husband and I had a strict budget of $50,000. We fell in love with a certain travel trailer, but buying the right truck to pull it would have put us over our budget. Thankfully, we were able to buy our Class C motorhome for a conservative $40,000.
7. Drivability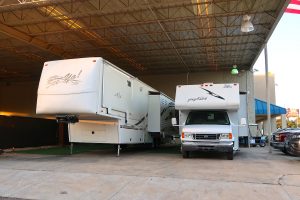 Can you drive the RV? Even a small RV can be intimidating, especially if you're not a confident driver to begin with. While I loved the idea of a Class A, I was just too intimidated by its size and height.
This is one of the reasons I fell in love with our current RV. I felt it was just big enough to live in full-time without being "scary" to drive, reverse and maneuver through traffic. If you and your partner are buying an RV together, you should both feel comfortable behind the wheel — that way you can share the responsibility of driving on long road trips.
This information is for educational purposes. VIARV shall not be responsible nor retain liability for RVer's use of the provided information. Prior to making any RV service decision, you are advised to consult with an RV professional.