How I Found Remote Work While RVing
My husband and I walked away from the best jobs we ever had to RV full time. I had worked for years to secure a position with a really good company, good pay and great benefits. But after eleven years and a lack of creative freedom, it was time to move on. We didn't walk away for bigger and better career opportunities. We walked away for the freedom and flexibility that a desk job would never provide. Ditching that level of security was really scary, but not walking away and wondering what life could be like felt even scarier. So we took a calculated risk to leave it all behind and go RVing.
Working Remotely From Our RV: How We Planned It All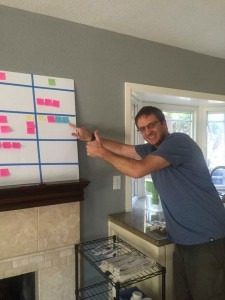 Bryce giving a thumbs up for being on track with our transition plan.
We are planners by nature, so we built a comprehensive project plan to guide us through the process. The plan contained everything from RV shopping, finances to employment decisions. The hardest part was picturing what remote work looked like. We had worked in cubicles out whole lives and it was hard to imagine what the options were. So we planned to use some of our savings to bridge the gap between leaving our jobs and finding remote work, along with offsetting costs by boondocking (which you can learn more about here) and using camping memberships. But I lasted four months before I panicked and started looking for remote work.
How I Found Remote Work While RVing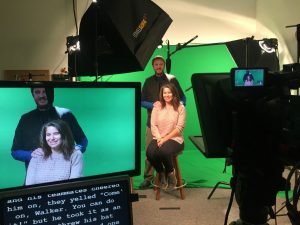 I have a storm to thank for my first remote gig.
Our first remote job was a fluke. While in Florence, Oregon, a storm rolled through that grounded us for several days. I decided that I would look for a local job since we couldn't do much else. I searched on Craigslist, which is a great resource to find short-term, local jobs. I found four job possibilities and landed a one-hour acting job that paid $100. It wasn't a lot of money, but it helped me build confidence — I knew that when I put my mind to it I could find employment. After that, I started networking in Facebook Groups, specifically groups like the RV Entrepreneur where business owners interact and sometimes hire for contract work. I have partnered with many entrepreneurs to create blog content and courses. Now I'm generating income through our blog and contract work, and recently I launched a course called Remote Work 101: Work, Live, and Travel Where You Want to help other people learn how to navigate working remotely. And of course, I'm a Campanda contributor, along with my husband Bryce.
Tips For Finding Remote Work As An RVer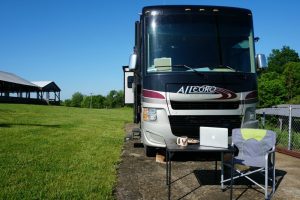 Boondocking (and working) on fairgrounds in Kentucky.
Navigating the transition from traditional employment to remote work is different for everyone. However here are some of my top tips for people who are curious about the process.Start with a budget and decide how much money you need to make. If you're traveling, research ways to offset your costs — offsetting costs should be part of your overall income strategy.Pick a date and try to work towards that as a goal, otherwise you may never leave your current employment.If you would prefer to keep your current job, approach your boss about a short-term experimental remote work period. Try a few days a month and slowly work up to a full-time remote role if possible. Prove to your company that a remote role will not negatively impact your contribution to the team.Do a skills assessment to see what job types you're qualified for. Don't get stuck on a work "identity" like computer coder as it will narrow your perception about what's possible.Put yourself out there. Tell people what you are good at, show that you're willing to learn and offer to work on a trial basis. This works well for freelance roles.
Tips For Setting Up An RV Office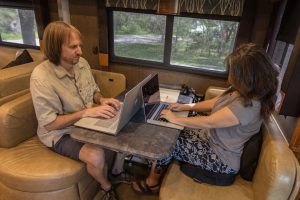 Bryce and I use our dinette as for work. It isn't ideal, but it gets the job done!
Ideally you'd have a dedicated space in your RV for an office. But not all RVs will have that available. Some people have converted closets or even second bathrooms into offices. My husband and I use our dinette, which isn't perfect but is totally workable. Additionally, the passenger seat offers a pull out surface that we use as a desk sometimes. Internet is a hot topic in the working RVer community. You'll want to choose a main carrier and a backup carrier in case cell service is limited. In some cases even a cell booster comes in handy, especially if you need to upload or download documents. The bottom line is that you need to be prepared with plan A and B and even C — which sometimes might include hitting up a local Starbucks for Wi-Fi.
Resources For Finding Remote Work
I mentioned earlier that I network in Facebook Groups and have found jobs on Craigslist. But there are so many more great places to look for remote jobs. Here are a few websites to start your search:Escapees | A total support network for RVers services including a job board for employers and job seekers of mobile and flexible work.Facebook | The world's preeminent social networking site allows users to make connections and share job opportunities and income ideas.FlexJobs | An innovative, professional subscription-based job service to find telecommuting and part-time jobs and freelance work.Indeed | The world's top job search site with job opportunities aggregated from thousands of websites.Upwork | Another innovative, professional subscription-based job service to find telecommuting and part-time jobs and freelance work.For a more comprehensive list, check out this article on my blog.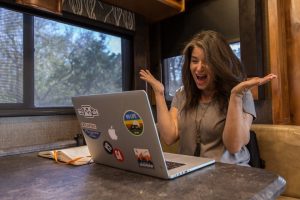 Transitioning to remote work can feel intimidating at first, but it's so rewarding in the end.
It's important to remember that the journey to remote work isn't always linear. It takes a bit of adjustment and adaptability as you try out different roles and options. If you keep an open mind, put yourself out there and are willing to learn new skills, then remote work is a real possibility and can enable you to live a more flexible lifestyle. Oh, and remember when I said that Bryce and I made a transition plan? We made that plan available to our More Than A Wheelin' readers here.
This information is for educational purposes. VIARV shall not be responsible nor retain liability for RVer's use of the provided information. Prior to making any RV service decision, you are advised to consult with an RV professional.