How To Choose The RV That's Right For You
Choosing The Right RV: How To Find The RV That's Right For You
I'm currently reading a book called, The ONE Thing: The Surprisingly Simple Truth Behind Extraordinary Results, by Gary Keller. The premise is that when you want to accomplish something, there is ONE thing that you can do to get the best results. Keller says that in today's fast-paced society, doing less — not more — is what leads us to the results we want. This is good advice for so many aspects of life, including (you guessed it), choosing the right RV to rent or buy. I know from experience that staying focused on what's really important can help you feel less overwhelmed by the decision process.
Do This One Thing
People tend to have a lot of questions when choosing an RV: Should I buy a Class A, B, or C, fifth-wheel or travel trailer? What floor plan do I want? Should I get a propane or electric refrigerator? Gas or diesel? What about the awning? Do I need … The number of decisions can quickly add up, and what started as exciting research turns into a pile of unanswered questions and another weekend of cutting your lawn instead of being on the open road.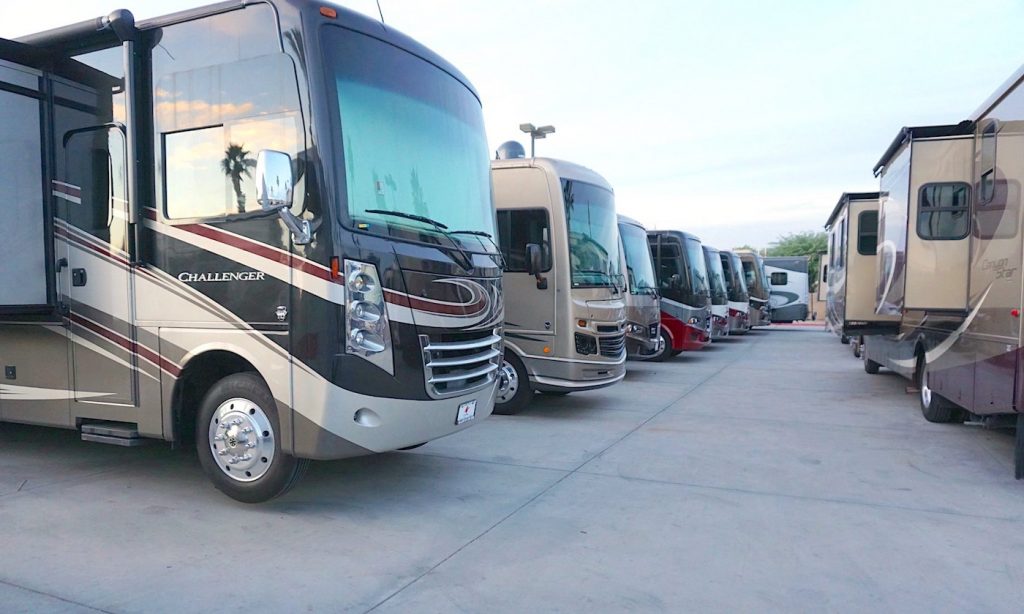 I'm here to help you make the big decision by encouraging you to do this one thing. Ready for the secret? Get into as many RVs as you can before you buy one. All the research in the world can't replace the experience of actually being in an RV. Physically going into RVs will help you understand what you want, like and need in your own vehicle.
Visit RV Dealerships And Shows
The best way to see a lot of RVs at once is to go where they are: dealerships and RV shows.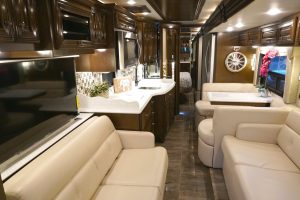 RV dealerships are a great place to see RVs and ask a lot of questions. Some people avoid dealers for fear that a salesperson might try to sell them an RV before they're ready. In my experience, salespeople have been very friendly and helpful, and typically have focused more on answering my questions than selling me an RV right away. They understand that many RV shoppers are new to the process and may take time to make the right decision. Another great way to see a lot of RVs, campers and trailers in one place is by going to RV shows, which are held at various times and places throughout the country. RV shows give you the chance to talk to real RV owners who are often happy to share the good (and possibly the bad and the ugly) about specific RV brands and models. Plus, RV shows are fun and really put you in the mood for your own adventure! Click here to see a list of upcoming shows around the United States. [LINK: http://www.rvia.org.]
Rent RVs Before You Buy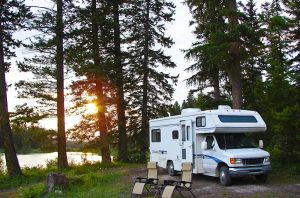 Checking out RVs in person is a great way to see what you want and like, but it still doesn't give you the experience of actually living in one for an extended time. Renting is a more thorough way to experience all aspects of RV travel. Renting enables you to hang out in the RV long enough to know if you like the floor plan, kitchen appliances, and sleeping quarters. It also lets you get a feel for how different RV models drive and handle on the road. You can search for and rent RVs on Campanda — you'll be amazed at how many awesome RVs there are to choose from!
How To Choose The Right RV For You
Before you rent or buy an RV, you'll need to consider your travel plans — where you're going, what you're doing and for how long — to decide which kind of vehicle is the best RV for you. Here are three very different scenarios that would result in very different RV selections: Scenario #1: A weekend getaway with a family of four to a nice RV resort with full hookups and amenities.
You'll be splitting your time between being in the RV, going out to dinner and off-roading in your truck. You plan on cooking a couple of meals inside your rig and having a few outdoor barbecues. In this scenario, a Class A motorhome or 5th wheel with plenty of space — maybe even a bunk for the kids — would be ideal. Perhaps you want an outdoor kitchen and TV since you'll spending time outside. Comfort and quality are likely important to you so make these elements a priority when choosing your RV. Scenario #2: A weeklong trip for two on the West Coast.
You and your spouse plan to camp on free land and head out on many outdoor excursions. The RV size isn't as much of a concern as is the ability to drive on dirt roads and explore out-of-the way places. You may find that a smaller, more adaptable RV is more your style. You want something you can pack up quickly for spontaneous travel. A Class B van or small Class C would be a good choice for this type of travel. Scenario #3: An extended solo trip with pets. You're fulfilling a lifelong dream of driving coast to coast in one month. It's a big journey, but you are up for the challenge and excited to get going. You'll be on the go most of the time and have a limited budget. All meals will be cooked in the RV and you plan to stay at state parks, which tend to be less expensive than many campgrounds. In this scenario, you'll want to consider an economical RV with good gas mileage. Since you you have pets and plan to save money by cooking in, you'll also want something that is functional for longer-term living.These simple scenarios demonstrate that a little bit of trip planning can go a long way toward leading you to the right RV. (Check out my blog for additional information about extended trip planning.)
It's Easier Than Ever To Find The Right RV
There are many RV brands, makes and models for sale and for rent. The options might seem overwhelming at first, but remember the one thing you can do to help you stay focused is to spend ample time in many RVs. Dealerships, shows and RV rentals are all effective ways to experience RV life first hand.
This information is for educational purposes. VIARV shall not be responsible nor retain liability for RVer's use of the provided information. Prior to making any RV service decision, you are advised to consult with an RV professional.