How To Make Your RV Rental More Appealing To Families
You've listed your RV on Campanda and now you're eager to start earning! One of the best ways to do this is to think about your renters — who they are and what they want from an RV rental — and then assess your rig and make a few small improvements to meet their needs.
Families are some of the most pleasant (and profitable!) renters out there. Optimizing your RV for family rentals is a great way to get your camper out of storage and onto the road.
Here is a list of tips to make your RV rental more appealing to families — and make you more money!
1. Start with a little RV makeover.
At the risk of stating the obvious, thoroughly clean your RV. Anything that you don't intend for your renters' use should be taken out of the RV. While it's totally up to you how much you leave in your rig, you may want to consider leaving at least some amenities inside when renting to families. You can always offer these things as add-ons for an extra fee.
LinensTowelsPillowsBlanketsKitchen supplies
Adding family-oriented items will also help make your listing successful:
Board gamesPlaying cardsExtra blanketsDVD player and a few moviesOutdoor camping games (think Ladderball or Cornhole)Small grillCamping chairs
These small steps will not only make your listing more appealing, but will allow you to charge a bit more as well. Win-win!
2. Describe your RV the right way.
Highlight the features of your RV that are important to a family.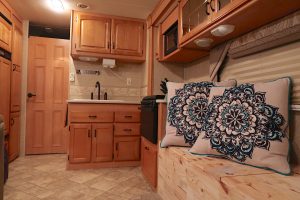 When you're writing your description, imagine that you're talking to a parent. What would you say to someone trying to take their kids to the campground for the first time?
Does your rig have an outdoor shower? Picture all the ways a family can use that feature: They can rinse the kids off after running around outside. It can also be great fun on a hot day. Be sure to include it in your description.
Can you think of any uncommon features in your unit? A lot of them were made with families in mind! A bathtub is a true asset to a family and should be included in your description if you have one. An outdoor kitchen is also highly valued, as are large slide outs or big storage areas.
3. Take the right photos.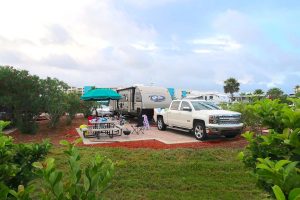 Nothing kills a rental listing faster than bad photos. Take a few good photos and give a beautiful visual of your RV and you should see great return on your investment.
Most articles out there will tell you to put everything away for photos. While this is great advice, it can be a good idea to add certain family-oriented items to your pictures.
For example, when taking a picture of kids' sleeping areas, put one or two stuffed animals on the bed. This small act gives your rental listing a personal touch and makes it more appealing.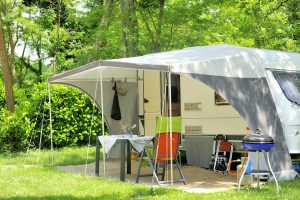 The kitchen is an important place for families to gather. Make sure you get a clear and wide shot of this area (taking the photo from a low angle can result in a better picture). Don't forget to take a picture of the dining area as well.
The exterior photo is perhaps the most important image for any RV listing. It's the first photo your renters will see, so make it a good one!
Get your RV into nature and set up a lovely shot. Turn the camera to ensure a landscape (horizontal) photo and step back as far as needed to get the entire RV in the shot. Remove any leaves and debris from the scene for a clean look.
4. Sweeten the deal.
There are some things that will make your listing irresistible to families.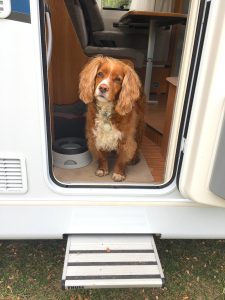 Many families have a furry companion. If you are comfortable with it, allow for pets. In a renter's mind, one of the greatest benefits of RVing is that they can bring Fido or Mittens along. Charge a small additional security deposit and cleaning fee to maximize your unit's potential to make money while also appealing to many more renters.
You can also boast extra services. Offer to deliver a unit to a campground, especially if it is a travel trailer or 5th wheel. Many families prefer these units because they offer more space and storage, but have no way of transporting them. A delivery service will stand out from the crowd and allow you to add a simple flat fee to your rental.
It's important to remember that families have a lot of working parts. While most owners require their renters to dump tanks and clean before returning, you can turn this into a profitable service. By giving the option to return the unit "as is" for a fee, you will turn a potential negative into a positive, making your RV listing unique and noteworthy.
Families are great customers. And every year, more and more families are looking towards the RV industry for their travel needs. Appealing to families is a great way to not only get your RV noticed, but to get it rented out again and again.
This information is for educational purposes. VIARV shall not be responsible nor retain liability for RVer's use of the provided information. Prior to making any RV service decision, you are advised to consult with an RV professional.