Rainy Day RV Camping Activities
Rainy Day Activities Inside The RV
1. Marshmallow Crafts And Games
If there's one unspoken rule of RVing, it's that you must have marshmallows on hand at all times.
And while s'mores are off the menu on a rainy day (unless you go the microwave route), you can still get some use out of them! Get creative and play tic-tac-toe with marshmallows and chocolate. The winner gets to eat the pieces!
Marshmallows are great for crafts, too. They're sticky, which makes them perfect for building towers. On rainy days, my husband and I like to compete to see who can get their tower the highest. We up the ante by placing weight on top. Whoever wins gets out of dish duty for the day — needless to say, things can get pretty intense.
2. Craft A Story
When you're stuck inside an RV, there's going to be a lot of chatter. Make it fun and light by telling stories!
People don't seem to read aloud much these days, which is a shame. Revive old traditions by reading the books that you have on hand to each other. Or find new and interesting stories online to share with your RV crew.
One of my family's favorite things to do is play a game called "Pass The Story." This is an interactive storytelling game where one person starts telling a story, then passes a ball to another to keep the story going.
I love this particular game the most because it's great for just about any age and gets everyone involved flexing their creative muscles. The key is to say a few sentences and pass the ball at a cliffhanger. This can really liven up the story!
3. Make Movie Watching Into An Event
Okay, so maybe watching a movie inside the RV isn't such a novel idea.
But simply popping in a DVD isn't going to entertain you and the other campers in your RV for very long. That's why you should turn it into an event!
Make popcorn. Bake cookies. If you don't have either of those things, get creative and make some finger foods from what's in your pantry. We don't normally use our oven, so in lieu of cookies we make peanut butter tortillas. They're easy to make and cut into bite-size portions. I like to put them on a small tray and serve them to my family. It's just that little bit of fun you need on a rainy day at camp.
It can also be fun to build a fort and watch movies in there. String a blanket over the dinette and across to the couch. Snuggle up with all your pillows and put an old favorite on your laptop or TV.
Rainy Day Activities Outside
If you're feeling adventurous, why not go outside? Some of my favorite RV memories are playing in the rain.
4. Have A Puddle Contest
If there's one guarantee in life, it's that a campground is going to have puddles when it rains. Take advantage of this and have a contest.
Explore the park looking for the biggest puddle. Give everyone a turn to splash to determine the winner.
Bonus points if you can splash over someone's head!
5. Take A Wet-Weather Hike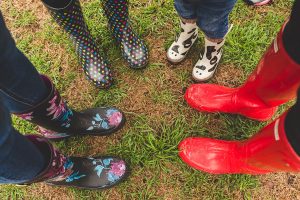 Things look different in the rain. Go outside and explore! See what kinds of animals and bugs you can find. My daughter loves going out in the rain to point out all the frogs and worms (why do kids love worms so much?). I like to point out the animals that are hiding, like the birds and squirrels. It's a great learning opportunity for everyone to consider why certain animals are out and others have found shelter.
I'm not afraid of a little dirt, and my daughter and I also like to make mud pies during our rainy hikes. Another activity you can do in the rain is a scavenger hunt. Make a list of things you think you can find and see who can spot the most!
6. Make Paper Boats
Okay, so technically you do the first half of this activity inside, but you still need to go out to see it through.
Gather around the dinette of your RV and make paper boats. Try a few different styles and then head outside to see which one floats best in the puddles.
Tip: Don't try this one when it's pouring rain. The boats will hold up better in a drizzle.
Rainy Day Activities In And Around The RV Park
7. Utilize The Clubhouse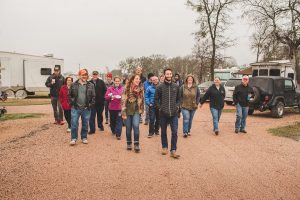 Many RV parks and campgrounds have clubhouses or activity centers. Check the schedule to see if the park you're in has any scheduled events that you can take advantage of during your rainy stay.
This year we stayed at an RV park that had Valentine's Day activities, which was great because the rain was relentless but we were still able to have fun with Candy Bar Bingo and a potluck. It also gave us the opportunity to get to know our neighbors — which would otherwise have been impossible in the rain!
8. Visit Local Libraries, Museums And Attractions
Do a quick online search to find a library or museum near you. Spend the day inside getting to know the local area and discover what it has to offer.
In December, we brought our RV to Connecticut. We took advantage of the amazing local science center and children's museums around the state. We even hit up the mall to get some "urban hiking" in when it was too cold to be outside.
Yes, the point of an RV trip is spend a lot of time outside. But when the skies don't cooperate with your plans, there are still plenty of things you can do to enjoy your RV trip no matter what the weather. Don't be afraid to get creative, slow down your schedule to share some stories — and maybe even get a little wet!
This information is for educational purposes. VIARV shall not be responsible nor retain liability for RVer's use of the provided information. Prior to making any RV service decision, you are advised to consult with an RV professional.